Set up Wi-Fi on Windows
Automated way
We are making available the following configuration script for Windows: SIN Net Setup – Windows (version 1.2)
How to use it:
Extract downloaded archive and enter directory sin-net-setup-windows

Run sin-setup.bat with a double click.

Press Enter and then choose 1 - Configure Wi-Fi connection by pressing number one on your keyboard, followed by Enter.

If successful, you can close the command line window.
Then:
Turn on the Wi-Fi.

Left-click the Wi-Fi icon in the system tray.

Find the Sincoolka (5G) network in the list, click it and click Connect.

After a short wait, you should see the login fields. Please fill in your SINIS login e-mail (all lowercase!) and password and confirm by OK.

If you followed these instructions and your password was correct, you should get connected

. If not,

there might be a hidden window in the background

, which will ask you to verify the server identity. Please check that the certificate is issued by

AAA Certificate Services

, the host name is

radius.sin.cvut.cz

and/or the fingerprint of the certificate is the same as at

Certificates - verifying our network identity and click Accept / Connect.
Sometimes the login needs to be repeated two or three times. You may want to verify that your email and password is correct.
Manual way
In case you have issues with the login, check that you really enter correct e-mail address and password. If it doesn't work, try adding the network manually:
Right-click on the Network icon on the bottom right and select Open Network and Sharing Center.

Click on the

Set Up a Connection or Network.

A new window should open.

Select

Manually connect to a wireless network

and click

Next

.

Enter network name: Sincoolka, security type: WPA2-Enterprise, then click

Next

.

Do NOT close the window, click on Change connection settings instead.


Check and correct the following settings on the Security tab:

Network authentication method - Microsoft: Protected EAP (PEAP) or TTLS

Click Settings and set these:

Select Verify the server's identity by validating the certificate.

Select Connect to these servers … checkbox and enter radius.sin.cvut.cz to the textbox below.

In Trusted Root Certification Authorities, select AAA Certificate Services.

In Select Authentication Method, select Secured Password (EAP-MSCHAP v2);

click

Configure

next to the combo box and

deselect Automatically use my Windows logon name and password

. Press OK.

Click Advanced settings and set these:

Specify authentication mode - User authentication

Click Save credentials and enter your SINIS email and password.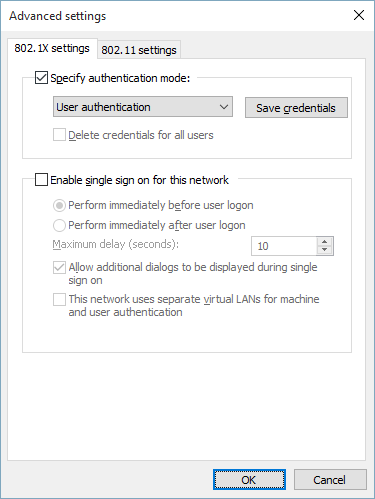 Afterwards, confirm every window with OK and connect to the Sincoolka network through the list of Wifi networks.